Tiffany Lamp Stained Glass Table Lamp 12X12X18 Inches Blue Purple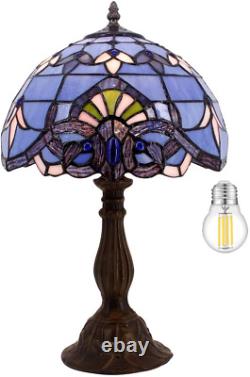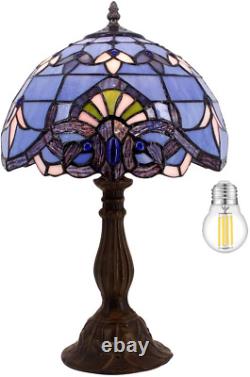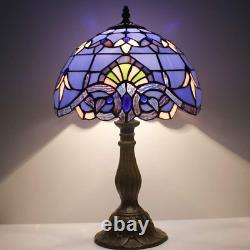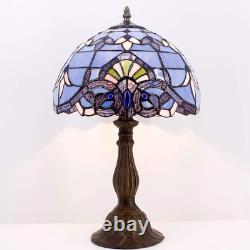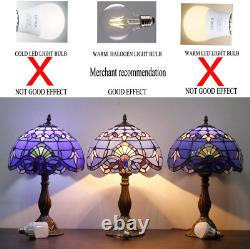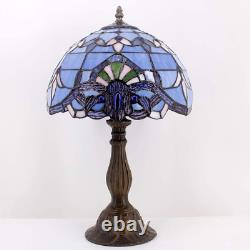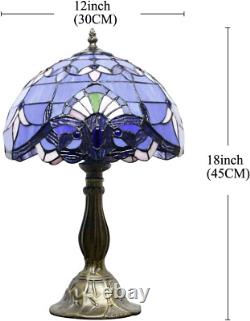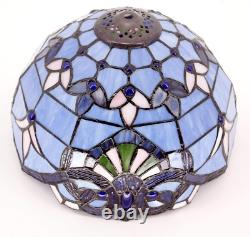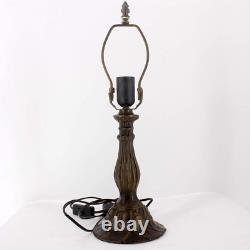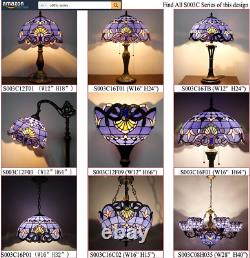 The middle size table lamp is perfect and will look dazzling in any room of family house, the glass shade wide 12inch (30cm) height 18inch (45cm). The metal base finished with antique green bronze, weight 1.0KG, wide 6 Inch (15CM). UL listed, Online On/Off Switch, 12 Inch far away from base, and 48 Inch far away from plug, Assemble is Easy. The Shade has been protected with mineral oil as part of the finishing process. Please use a soft dry cloth to remove any excess oil. This table lamp creates a nice comfortable glow and comforting feeling in the house when spending time with your family, decoration effect is very good, suitable for classical style decoration.
Lighting not so bright but enough for reading. LED Bulb Included, E26 2700K G45 LED 1PCS, 4-8W warm white light will be better. Note: Shade colors will appear darker and less vibrant when not illuminated.
Werfactory lamps are packed in polyfoam box specialised, safe for shiping. Precious handmade crafts as century classic, We ensure you our lamps are of the highest quality and they will most definitely leave the recipient in awe. We refuse cheap material, only high quality can be passed, each lamp been checked by whole process ensure no quality issues and no similar product can surpass us. The shade material is real stained glass jointed by tin, The heavy base provide a good stability from falling that can make sure safety and stable.
The handcrafted nature of this product creates variations in color, size and design. Wefactory lamps are perfect gift for all occasions. Elegant gift sure to be appreciated by your friends, Tiffany Lamps are beautiful handcrafts will certainly add elegancy and creativity to home.
These lamps are inspired from the art nouveau design, making each one a unique and stunning centrepiece to place in your house. Applies to products in new condition: 90 days free & 24 hours services everyday. If your lamp has any defect or stops working, WERFACTORY will help you troubles hoot and/or send parts or a whole new product.
Worth Having, Be All You Can Be, Werfactory Tiffany Lamp. Mom, why don't we have a Werfactory Lamp? Sweetie, you will have one on your wedding day! Be All You Can Be. Ingenious design with colorful stained glass to make Werfactory Tiffany Lamp one of the most gorgeous lamps on the market.
Not only does it provide beautiful warm light to illuminate your spaces, but also as a Hand Artcrafts for collection. It is the perfect light for bedrooms and living rooms, as it's gorgeous enough to provide soft warm lighting and a warm cozy ambiance, but isn't so harsh that it overwhelms the space..
And extra storage and display area is always a plus! Diamonds in the field of lighting.
Products Size: Wide 12 inch (30 CM) Height 18 Inch (45 CM). Material: Stained Glass Lampshade, Zinc Lamp Base. Bulb: 1 PCS 4W G45 2700 Kelvin E26 LED Bulb.
Wire: 1.9 meters plug wire with push button switch on Cord. Net Weight: 2.65 KG. California residents: Proposition 65 warning. Tiffany Table Lamp W12H18 Inch (LED Bulb Included) Blue Purple Baroque Style Stained Glass Lavender Shade Antique Base S003C WERFACTORY Desk Reading Light Lover Living Room Bedroom Bar Art Craft Gifts. This photo been made in Night.
Why Dark Than Modern Lamp. Tiffany lamp main for decoration and reading, The stained glass show beautiful color but Obstruct the light bright big area, So not So bright. Why The Line Is Rough.
We welding the small glass with tin and copper foil by hand, so line on the surface not smooth like Machine Products, some also have rough gap. This Photo been made in Day. The small piece glass been jointed together, Percussion is Depressing, glass weight is 2 times than plastic, and couldn't been burn by fire.
What's the Bulb is better. LED is good, Base: E26, Temperature Range: 2700 Kelvin (Warm Light), Wattage: 4-8W, Diameter: G45 Is better.
The Stained Glass Color is Nature not been Painted. In different Area, the color is different, So the tiffany lamp is unique with High collection value. Cut Stained Glass To Small Pieces. The craftsman should cut the big piece stained glass into thousands small pieces, and smooth all the edge of glass. Why Have Oil On Surface.
The craftsman bind the small glass with copper foil, this can help the Stained glass be weld with tin one by one, Oil On Surface for Protect from Oxidation. The craftsman put the small glass into the model according the pattern, and weld the glass with tin.