White Stained Glass Tiffany Style 2-Light Floor Lamp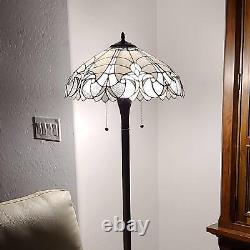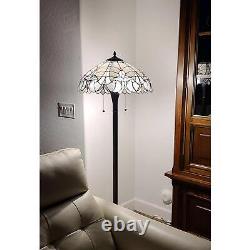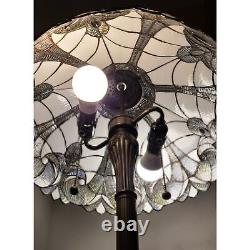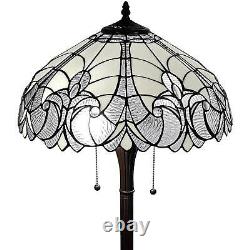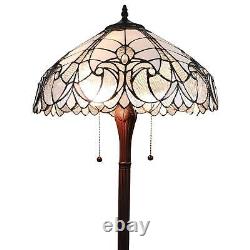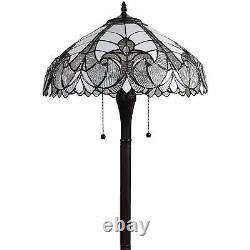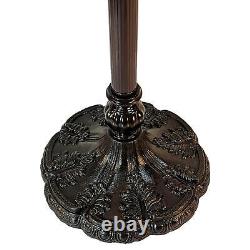 White Stained Glass Tiffany Style 2-Light Floor Lamp. Indulge in the tranquil ambiance of late nights with this marvelous Tiffany-style floor lamp.
This lamp is a true testament to the artistry of stained glass. Each stained glass piece is skillfully hand-cut and wrapped in fine copper foil, resulting in a breathtaking display of craftsmanship. Standing tall at 62 inches, the dark brown zinc base adds a touch of elegance and stability to the lamp's design. The shade, measuring 18 inches in diameter and 8.5 inches in depth, is a true centerpiece with its stunning composition of 276 hand-cut glass pieces and 18 sparkling jewels.
When illuminated, the shade comes to life, casting a mesmerizing glow and creating an atmosphere of serenity. Convenience is at your fingertips with the pull chains, allowing easy control of the lamp's on/off functionality. To bring this floor lamp to its full radiance, it requires two 60-watt E27 Type A bulbs (not included), providing ample illumination for your space.
Immerse yourself in the timeless beauty and artistic allure of this Tiffany-style floor lamp, where traditional techniques meet exquisite design. It is a statement piece that not only illuminates your surroundings but also captivates with its intricate stained glass shade, evoking a sense of sophistication and tranquility in any room. Lamp Height: 61 to 72 Inches. FOR STAINED GLASS PRODUCTS ONLY Stained Glass Products are handcrafted using the same techniques that were developed by Louis Comfort Tiffany in the early 1900s, this beautiful Tiffany-style piece contains hand-cut pieces of stained glass, each wrapped in fine copper foil. Care Instructions: Stained glass has been protected with mineral oil as part of the finishing process. Please use a soft dry cloth to remove any excess oil. Please note: Since these are hand crafted products, the exact color and size of glass pieces may vary. Colors of the glass will appear darker and less vibrant when not illuminated. Attention California residents: DO NOT EAT THIS.
This product may contain lead, a chemical known to the state of California to cause cancer and birth defects or other reproductive harm. Multiple photos are used show what the product looks like with light on, (brighter image) and with the light off, (darker image).
Light bulbs used in lamps or ambient lighting may affect the appearance of the products. THANK YOU FOR SHOPPING AT OUR STORE!